Choose the Membership Level That Meets Your Needs
SILVER
$225 One-Time Payment
Immediate access to Forman's Financial Facts Blueprint
DIAMOND
$337 One-Time Payment
Immediate access to Forman's Financial Facts Blueprint
I'm Joel R. Forman, proud dad of four children & financial expert who's passionate about teaching kids how to manage their finances
As a dad of four, it was very important to me to make sure my children developed the positive habits they needed to thrive as they reached adulthood.
One of the most essential areas of focus on, for me, was helping our kids build strong skills in is managing their finances. This is such a critical component to securing their success as they leave the nest and start their own lives.
I started off by teaching my son how to save and invest his money and then expanded to teaching his friends, and the rest of our children.
Our daughter, at the age of 18, was extremely interested in learning about financial management and even complained that she wished they covered these topics in high school. She added that most people her age have little to no idea how to manage their money, and many of her friends already had racked up some credit card debt!
It grew increasingly obvious to me that there was a huge need for this skillset to be taught in the younger generations. They needed, wanted, and were eager to learn basic financial management tactics, but had no one to teach them.
From there, Forman's Financial Facts was born!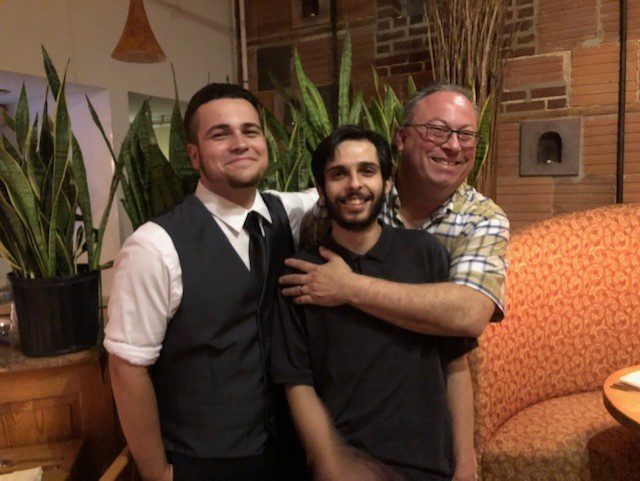 My philosophy is, the earlier you learn how to manage your money, the better, however, it's never too late to get started! Adults of any age can benefit from learning financial management skills. Doing this for yourself, for your children, or for anyone you know who needs this critical knowledge can help you become financially independent and set yourself up for success!
The reason you need to acquire a financial management skill set, is without it you are much more likely to make poor financial decisions, rack up debt, and live paycheck to paycheck, and the older you get, the more difficult that becomes.
Learning to manage money is something that everyone needs to learn how to do. It can be challenging to find the best ways to obtain this knowledge if you're young, but that's where I come in!
My Financial Training Platform is designed with a straightforward approach that is easy to follow, easy to understand, and easy to implement into your daily life.
With more than 30 years of experience in financial roles within corporate America and managing budgets as large as $1 Billion, I've taken my experience and knowledge and shared EVERYTHING in the resources on my training platform. I want you to have all the tools you need to help learn the financial concepts and cultivate the skills you need to develop strong life-long money habits.
My Forman's Financial Facts Training Platform is an interactive membership website designed to teach young adults the financial concepts and skills they need to thrive. This membership includes my easy-to-read Financial Blueprint, which is your roadmap to financial success.
When you adopt solid financial habits, you secure a positive future for yourself and your family, experience less stress, and build wealth for future generations!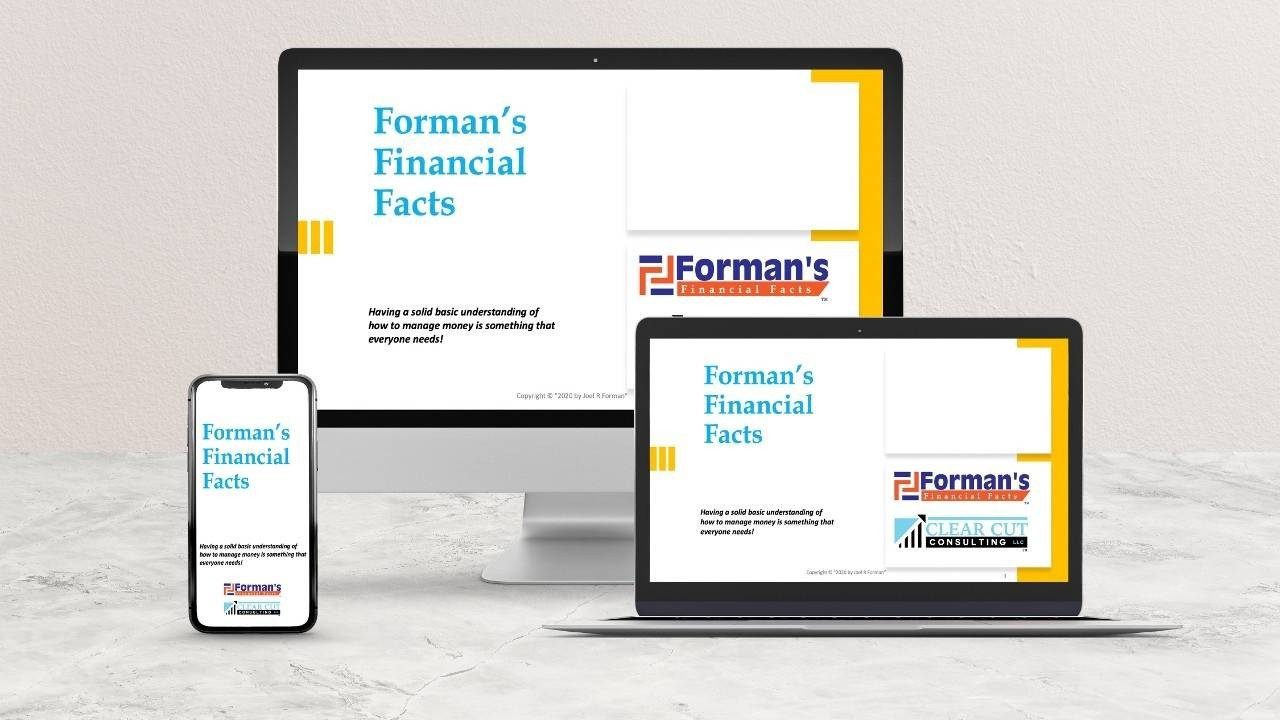 My Forman's Financial Facts Blueprint and Training Platform focus on the 8 essential financial concepts needed to secure a strong financial future:
Life insurance — whole life and term life

Planning for your children's college
Build a Strong Financial Foundation
& Manage Your Money With Confidence
If you're ready to secure your financial future, the resources and tools provided in my Forman's Financial Facts Training Platform will give you the head start you need to develop strong habits around money and begin building wealth now.
The Forman's Financial Facts Training Platform provides you with a variety of resources to learn crucial financial topics and put them into practice regularly. The program features:
Financial Literary Blueprint: In this easy-to-understand financial roadmap, I teach you how to manage your personal finances with confidence.

Word/Topic of the Day Posts: These clear and concise informational tools will teach you what you need to know about essential financial topics.

Daily Financial Advice Videos: I walk you through one critical finance-related concept and share tips and strategies for implementing it during each video.
Payment Details Provided Below - Price Does Not Include Nj Sales Tax - It Will Be Applied At Checkout
15-24 years olds and their parents will find this resource particularly useful. However, anyone who would like to build their financial knowledge and manage their finances with confidence will benefit!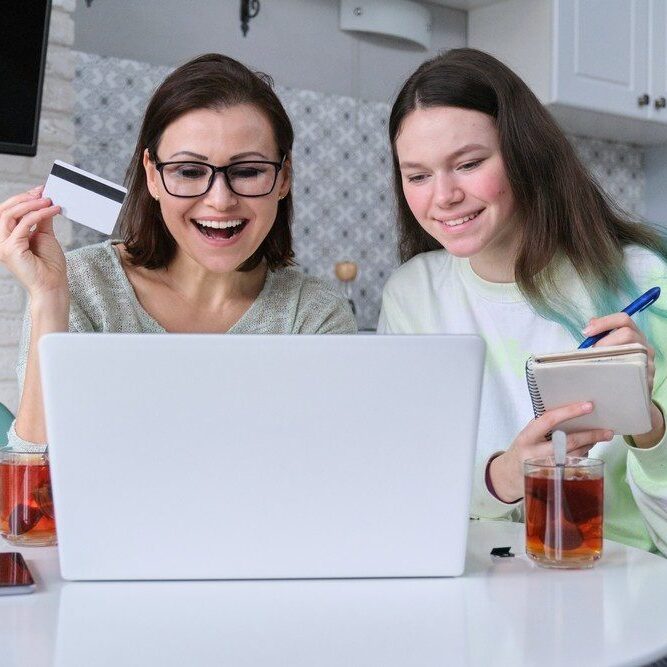 "After reading through Forman's Financial Facts, I wish I could go back in time and hand this to my younger self! Joel presents the most essential financial concepts in an easy-to-digest format that will resonate with the entire family. Joel has been able to single-handedly fill a major gap within the basic educational curriculum: financial literacy and competency. I highly recommend this not only for students but for parents as well. This all-encompassing blueprint will set the stage for financial success for years to come."
Andrew Macieira, Elite Marketing Solutions
"One of the most important things my wife and I did for our relationship was to get on the same page financially. It is crucial to set systems in place and adopt the right habits that lead to financial independence. The best way to get the correct financial blueprint in place is to learn from someone who lives and breathes this stuff. Joel Forman is that guy. If you're looking to get your finances in order so you can build wealth, reach out to Joel."
Matt Zaun, Matt Zaun, LLC
"Managing your finances can be a complex and sometimes nerve-racking process. It's difficult to find the information you need to do things the correct way without making mistakes. That's why I was excited to see that Joel created his financial literacy blueprint and supplemental training platform because they take all of those hard-to-understand concepts and make them a lot easier to comprehend. Joel gives you the tools you need to make sound financial decisions and build wealth. If you're looking for guidance to help you responsibly take charge of your finances, I would definitely recommend checking out Joel's blueprint and training platform!"
Jaclyn Baldovin, Radiant Digital Solutions
© [Joel R Forman], 2021. No part of the materials available through the [formansfinancialfacts.com] site may be copied, photocopied, reproduced, translated or reduced to any electronic medium or machine-readable form, in whole or in part, without prior written consent of [Joel R Forman]. Any other reproduction in any form without the permission of [Joel R Forman] is prohibited. All materials contained on this site are protected by United States copyright law and may not be reproduced, distributed, transmitted, displayed, published or broadcast without the prior written permission of [Joel R Forman].
Please read the Privacy Policy.